Paver Clean & Seal
Cleaning and sealing your pavers is not an easy job, but it is an important one for the longevity of your pavers. At Park Place Pavers we recommend that you clean your pavers regularly and seal them every year or two. This can be an arduous task so why not leave it to the professionals? We will ensure that your paving stones look great for longer of you live in the greater New York region!
Cleaning and sealing your pavers will preserve them and make sure they look pristine for the longest possible time. In order to extend the life of your pavers you need to lean and seal them. Sealing the pavers can protect the surface from stains, scratches, and water damage. There really is nothing like the look of professionally clean and sealed pavers!
Cleaning Pavers
Are your residential or commercial pavers in need of some long overdue TLC? If the answer is yes, then you need the assistance of Park Place Pavers. We will come out to your property and work out the best type of cleaning for you pavers. There is a range of paver cleaning chemicals on the market but it really does depend on the condition of your pavers. For instance you may have oil stains or perhaps an efflorescence problem. Our professionals will be able to determine the right type of paver cleaning required for your particular issues.
Sealing the Pavers
Once we have cleaned your paver driveway, patio or walkway it is then time to take on the sealing task. The cleaning phase will have gotten rid of any stubborn stains or any efflorescence problems. It is important to have as clean a surface as possible for you don't want to seal in any imperfections.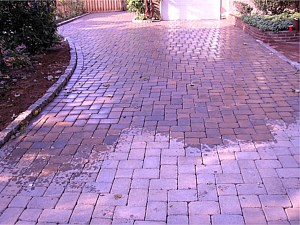 At Park Place Pavers we will professionally seal your paving stones. With an abundant range of paver sealers on the market today, it can be quite confusing to know which sealer is the right one for you. Well that is where the help of a professional paver maintenance company comes in handy. We will take all of the guess work out of it for you.
Pavers sealing is not an easy job and should be done every two years or so. If you have a paved surface that used a lot more than usual then it will require sealing on a more regular basis. Sealing your pavers will ensure that your pavers not only look great but it will also extend the lifespan of your pavers.
At Park Place Pavers we have the right knowledge when it comes to sealing so you can be certain that we can effectively preserve your pavers. We use only the best quality paver sealers. Our contractors know the appropriate sealer for the paving materials installed on your property. Call us now for a free estimate!