631-835-4775

&

914-565-1601
Mon - Sat: 7am - 7pm
151-26 6th Road Whitestone NY 11357
More than just pavers
Welcome to Park Place Pavers!
Park Place Pavers specializes in brick and interlocking paver design and installation for residential and business properties. We aim to provide our clients with a comprehensive choice of Nicolock, Grinnell, and Cambridge Pavers to meet their specific needs.
Learn More
Hardscape Services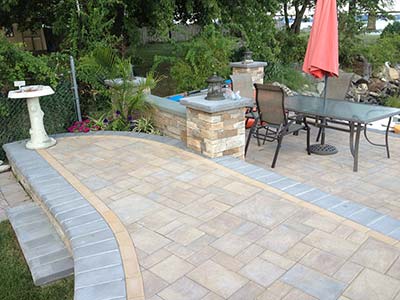 Park Place Pavers is a leading hardscaping company in Whitestone, NY. We have been at the forefront of the paving industry in the region and provide outstanding services to our residential and commercial clients. Our company knows the importance of customization and personalization, and we make every effort to ensure that you get the best services at the most cost-effective pricing. Our experts handle small paving upgrades as well as large-scale new paver installation jobs expertly and reliably. We aim to provide our clients with the most extraordinary and delightful experience when they work with us. We offer a range of solutions, including the following.
Paver Walkways
Using our services is the quickest and most straightforward approach to acquiring beautiful paver walkways. If you'd like stunning paver walkways and other masonry pieces installed on your property, we're the hardscaping professionals to call. Residential and commercial customers can rely on us for the design and installation of high-quality paver pathways. Pavers may be used for a wide variety of outdoor projects due to their adaptability. Driveways, walkways, and paths may all benefit from them, and this helps skilled paving professionals like us to create a cohesive look on our clients' outdoor areas. The use of paver stones allows hardscaping designers with extensive expertise and training to build one-of-a-kind walkways for your property. Pavers made of natural stone, concrete, or brick are suitable for use on a wide range of surfaces. Because these materials are so low maintenance, you'll save money on cleaning and upkeep costs by using them. Read More About Paver Walkways >>
Paver Driveways
We install beautiful paver driveways for both residential and business properties. Using a customized and personalized strategy ensures that this prominent part of your landscape meets its purpose while also being strong and appealing to the eye. If you need a reliable and economical paver driveway design and installation company, we are here to help. When you hire us, you can rest assured that your new paved driveway blends in seamlessly with the rest of your home's exterior. Outdoor areas are transformed into works of art when our hardscape designers and contractors collaborate. Their understanding goes beyond the realm of theory. Their practical knowledge of laying pavers in landscaping helps to ensure that your outdoor spaces are aesthetically pleasing. The final installation will be what you envisioned, as well as highly sturdy and dependable. We consider your ideas, share our ideas, and advise, so you have beautiful outdoor areas on your property. Read More About Paver Driveways >>
Paver Stairs
Garden stair designs and plans that are both beautiful and functional are our specialties. We draw on our extensive knowledge and creative expertise to make your outdoor environment stand out. Many homeowners prefer to level the ground fully before developing their garden since sloping parts may exist there. But if you choose to keep the multiple levels, installing stairs is a great way to maintain safety and enhance your property's appeal. We can design and install a wide range of yard and garden steps. We deal with customers starting a new landscape from scratch and can add stairways to an existing landscape. We also handle excavating and grading of some of the exterior areas before installing the landscaping paver stairs. No matter how big or small your job is, we have the skills to get it done. We provide uncompromising quality and complete every task to industry standards. Read More About Paver Stairs >>
Snow Removal
We are the go-to company for snow removal for both homes and businesses in the Whitestone, NY, region as we provide timely and trustworthy service. Regardless of the scope or intricacy of your snow removal needs, you can count on us to do the job quickly and efficiently. Whenever you need reliable snow removal or ice management services, you can count on us. Our snow removal professionals will be there to clear your landscape and yard of snow and ice as soon as you call. Snow removal from small places is done manually. Regardless of how much snow must be removed, our crews will do it efficiently and safely. Their careful work helps protect your landscape's features and installations against damage. Our snow removal services are also the ideal method to be stress-free throughout the winter. Read More About Snow Removal >>
Retaining Walls
When you disturb the ground on your property in any way, it might become unbalanced, necessitating retaining walls as structural support. Unlike garden or boundary walls, which help to demarcate various areas or zones, these walls have a distinctive appearance. Adding a retaining wall to your landscaping is an excellent idea since it protects your plants while providing support. Using these barriers will keep your soil intact, and your plants will grow as they obtain the necessary nutrients to thrive and be sustainable. Creating a level ground with retaining walls also helps in preventing downward slope movement. Concrete masonry blocks in various patterns, forms, and sizes are used to build retaining walls. Custom-built retaining walls can also help with soil erosion issues on your property. We only use retaining wall systems, and we do an excellent job of installing them so you can be sure that the feature will last for decades without any trouble. Read More About Retaining Walls >>
Pillars
We've been custom-designing and constructing beautiful pillars and columns for landscapes across the greater New York area for many years. Pillars or columns built by our team of experts can completely alter the appearance and feel of your property! Retaining and garden walls often have architectural pillars built into them. Large walls benefit from their structural support and ornamental value. Your landscape will have an "old world" vibe to it with the addition of pillars and columns. Many materials are available to consumers that mimic the appearance of genuine stone blocks, which have been used for years to build columns. With our solutions, you don't have to pay a fortune to have a pillar look! The best quality artistry combined with extensive experience ensures that you will be well-informed throughout the pillar or column installation process. We can handle pillar installations in new landscapes and existing ones based on your requirements. Read More About Pillars >>
BBQ Islands
A BBQ Island will improve your social life as well as your outdoor living area. The number of get-togethers you have with family and friends will increase, as will the amount of time you enjoy spending in your outside spaces. Using your BBQ, you'll be able to prepare some delectable meals. To create a BBQ Island that perfectly complements your outdoors, we rely on a team of experts. Depending on your needs, we can design and construct a BBQ Island that perfectly complements your yard and other features in it. As a leading outdoor living company in the region, we specialize in BBQ Islands' construction for residential and commercial premises. We can equip your island with an oven and stove, a sink, and even cabinets for perfect storage. It truly is a matter of personal preference, and we understand this aspect, so our team will ensure that you get the best BBQ island for your needs. Read More About BBQ Islands >>
Seat Walls
Installing custom seat walls to any landscape is a practical way to improve its usability. They serve the purpose of providing additional seating for your family and guests when you entertain and host parties. These walls are great features since they eliminate the need for other seats like outdoor chairs during get-togethers, which may cause movement disruptions and create safety issues. Outdoor living rooms with more than a few seats can benefit from seat barriers. They can create segregated spaces ensuring better usability. Seat walls are great for dividing an area with a fire pit, and seating guests gathered around the fire. More than merely functional, they'll improve the look of your landscapes as well. We use various materials in our seat wall installations, such as poured concrete, natural stone, interlocking blocks, brick, and more. In some settings, we use combination materials to create a unique, cohesive look in the landscape. Read More About Seat Walls >>
Pool Decks
Pool decking that truly shows off your swimming pool is what we do best. Need a brand-new pool area or an upgrade of an existing one? We're the experts with all the skills you need. With the addition of a swimming pool deck, you'll have more living space on your property, and we handle every aspect of the job, from design to installation. Our team will meet your requirements and create a spot where you, your family, and your friends can enjoy some splendid moments around the pool. We can transform decking around the pool into a superb entertainment zone. Our experts can construct a BBQ area outside so that you can prepare delicious food while enjoying a pool party. We use our imagination, knowledge, and expertise to design beautiful outdoor living areas for you and your family to enjoy. You can rest assured that the deck we plan for you will be outstanding in every way. Read More About Pool Decks >>
Pool Installs
When it comes to our resilient in-ground swimming pools, we go beyond the ordinary with everything from elaborate water features and cutting-edge pool technology down to masonry services. We help with all aspects of the project, including design and planning, site preparation, material selection, project management, inspection, and apparatus installation and commissioning, among other things. There is equipment, components, and finishes to choose from today, and we help you with the selection. We use our skills and creativity to design and build a beautiful pool that will increase the value of your home while also making your yard more usable and appealing. Our experts can create a basic pool or a one-of-a-kind custom pool for you. All our work is guaranteed, and we're here to help you keep your pool in top shape. Pool installs are one of our specialties, and we've been building them for many years, so you can trust us to provide you with the best solutions within your budget. Read More About Pool Installs >>
Asphalt Paving
Local residential and business property owners trust us as one of the most reputable blacktop contractors in the region. We have a paving crew who are among the most trusted and dependable in the state. The same goes for asphalt paving jobs covering extensive areas, such as parking lots, for which we have all the necessary equipment on hand. We adhere to industry standards and best practices to provide aesthetically pleasing outdoor areas. Our teams are highly trained and diverse, so they can manage any asphalt paving project, whether it's for a home or a business. Our services include constructing paved exterior areas such as roads, walkways, parking lots, driveways, and garages. You can rely on us to improve the beauty of your outdoors by providing you with high-quality asphalt surfaces. Using only the highest quality raw asphalt, we can do both new construction and maintenance work. Read More About Asphalt Paving >>
For information about our hardscape services, please call Park Place Pavers at 631-835-4775 or 914-565-1601. You can also write to us via this Contact Us form, and one of our experts will call you soon to discuss your project and get it started. We provide the most efficient and cost-effective paver installation services to residential and commercial clients.